Promouvoir la finance « durable » nécessite d'améliorer la mesure de l'impact
Driven by the strong mobilization of its population, Europe is at the forefront of impact investing and sustainable development. The time is ripe to take advantage of this advance and these societal changes to transform finance into a more "sustainable finance", integrating all the parameters of development, and not only the essential fight against climate change. The many legislative changes expected within the framework of the European Green Deal could prove to be decisive in taking these factors into account, and allow us to make our mark. Meridiam's long experience in financing sustainable infrastructure projects allows us to retain some major principles to maximize their impact. Measuring results, setting objectives and giving ourselves the means to achieve them represent the key elements and challenges of sustainable finance in which a lasting impact is decided on a daily basis.
Poussée par la mobilisation forte de sa population, l'Europe est à la pointe de l'investissement à impact et du développement durable. Il est nécessaire de capitaliser sur cette avance et ces changements sociétaux pour transformer la finance en « finance durable », intégrant tous les paramètres de développement, et non pas uniquement la lutte contre le changement climatique, évidemment indispensable. Les nombreuses évolutions législatives attendues dans le cadre du Green deal européen pourront se révéler décisives dans la prise en compte de ces facteurs, sur lesquels nous pouvons encore imprimer notre marque. La longue expérience de Meridiam dans le financement de projets d'infrastructures durables permet de dégager quelques grands principes pour maximiser leur impact. La mesure des résultats et la fixation d'objectifs, en se donnant les moyens de les atteindre, sont à la fois la clef et le défi de la finance durable : avoir de l'impact dans la durée se décide au quotidien.
Fichier principal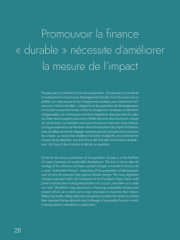 Transitions_2021_Thierry_Deau.pdf (159 Ko)
Télécharger le fichier
Origin : Explicit agreement for this submission