La grande vitesse ferroviaire, vainqueur de la libéralisation du ciel français ? La stratégie singulière et payante de la SNCF de conquête de la clientèle aérienne domestique
Since the beginning of high-speed services in France, the TGV network's main target has been business traffic using the domestic air transport network. Point-to-point services with the lowest number of intermediate stops have been the preferred solution. SNCF can be considered as an active player in the rail/air transport competition, given that it offers rapid travel times, competitive prices and considerable carrying capacities. Our aim is to measure the intensity of the competition in 2010 and, in particular, the shift taking place from a real domestic point-to-point air offer to a stricter hub-feed network with lower frequencies. We have compared the service level provided by the two carriers, basing the comparison on average TGV travel times (which are not related to the real distance covered).
La grande vitesse ferroviaire a été développée en France à partir de la fin des années 1970, avec le choix d'une structure de réseau adaptée à la configuration du territoire et à la répartition des habitants et des activités. L'hypertrophie parisienne a induit un réseau centré sur la capitale et des segments relativement longs jusqu'aux premières concentrations urbaines justifiant une desserte. La vitesse a donc joué un rôle important et le « point à point » a eu tendance à l'emporter sur la logique antérieure de desserte « en chapelet ». Le transport aérien domestique a été développé dès la fin des années 1950 par une compagnie aérienne spécifique (Air Inter) agissant dans un but commercial mais bénéficiant également de subventions d'État au titre de la desserte de territoires fragiles ou excentrés. Il en a résulté un réseau étoffé, associant des lignes radiales au départ de Paris-Orly, mais aussi un certain nombre de lignes directes entre grandes capitales régionales éloignées. À l'occasion de la libéralisation du secteur aérien, Air Inter a été absorbée par Air France et une partie des vols a été réorientée sur le nouveau hub intercontinental de Roissy-CDG, de façon à alimenter les services long-et moyen-courrier. Nous cherchons dans cet article à comprendre pourquoi le rail semble avoir pris un ascendant décisif sur l'aérien alors que les conditions de la concurrence paraissent pour l'instant différentes dans les autres pays ayant développé la grande vitesse ferroviaire. Nous nous interrogerons notamment sur le rôle des temps de parcours globaux et des tarifs dans la compétition. Le transport aérien semble désormais défavorisé du fait des exigences croissantes de sûreté, qui nécessitent un allongement des temps de précaution, et d'une congestion endémique du ciel européen. La montée des prix en 2008 lors de la crise pétrolière, même si elle a été résorbée, a constitué un signal non négligeable. Enfin, le secteur ferroviaire fait la preuve d'une inventivité commerciale qui montre qu'il vise vraiment les utilisateurs du transport aérien.
Fichier principal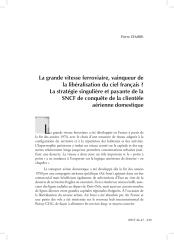 BAT RHCF 24-ZEMBRI-2.pdf (576.09 Ko)
Télécharger le fichier
Origin : Publisher files allowed on an open archive