Die doppeldeutige Rolle der Hochgeschwindigkeitszug in der Governance von Mittelmeerseisenbahnkorridor in Spanien
The ambiguous role of high-speed rail in the Spanish Mediterranean railway corridor's governance
Le rôle ambigu de la grande vitesse ferroviaire dans la gouvernance du corridor méditerranéen espagnol
Im doppelten Rahmen von der Entwicklung der Transeuropäischen Verkehrsnetze und der Einsetzung eines Hochgeschwindigkeitsnetzes in Spanien lässt sich das Mittelmeerseisenbahnkorridor als wichtige Grundlage der Territorialisierung. Dieses ständig wandelnde Konzept trägt zu wesentlichen Änderungen der Governanceprozesse bei. Dadurch werden Machtverhältnisse zwischen privaten und öffentlichen Akteuren auf alle Ebene verändert und traditionelle Entscheidungsprozesse in Frage gestellt. Obwohl dieser Eisenbahnkorridor gleichzeit Fracht und Zugfahrgäste gewidmet wird, ist die Entwicklung von Hochgeschwindigkeit an der Mittelmeerküste entlang, da sein positives Image viele lokale Akteuren mit sich bringt, von hoher Bedeutung. Er ware die allererste wesentliche Zugverkehrsachse für Fahrgäste, die nicht über Madrid fahren würde. Dadurch wird er einen geopolitischen Gegenstand. In dieser Hinsicht wollen wir zeigen, wie neue Akteure im Rahmen dieses Projekts aufgetaucht sind und wie sie sich in einem gespannten Kontext von einer mehrstufigen Governance gegeneinander positionieren.
In the twofold context of the development of Trans-European Networks of Transport (TEN-T) and the construction of a high-speed network in Spain, the Mediterranean railway corridor (MRC) appears as a powerful element of territorialisation. This continually developing object causes strong, modifications in the governance processes, transforming power relations between public and private stakeholders at all scales and challenging the current institutional decision-making processes. Moreover, even though MRC should host freight and passengers, the project of high-speed deployment on the Mediterranean coast is of particular importance. This has a positive image and consequently involves many local stakeholders. Such a project would be the very first major passenger axis in Spain that does not cross Madrid, which makes it a geopolitical object. We will therefore try to highlight the way new actors have emerged within the MRC project and investigate their positioning in this particular contentious context of multiscalar governance.
Dans le double contexte des Réseaux transeuropéens de Transport (RTE-T) et de la constitution d'un réseau à grande vitesse en Espagne, le corridor ferroviaire méditerranéen apparaît comme un élément puissant de territorialisation. Ce projet, qui connaît des développements permanents, contribue à provoquer des changements majeurs dans les processus de gouvernance. Il modifie en effet les rapports de force entre acteurs privés et publics à toutes les échelles, et il interroge les processus habituels de prise de décision. De plus, quoique le corridor ferroviaire méditerranéen soit à la fois un axe de fret et de voyageurs, le projet de développement de la grande vitesse le long du littoral méditerranéen revêt une importance toute particulière, grâce à son image jugée positive qui implique de nombreux acteurs locaux. Il s'agirait en effet du premier axe de passagers important ne passant pas par Madrid, ce qui en fait un objet géopolitique. C'est pourquoi nous proposons de montrer comment de nouveaux acteurs ont émergé autour du projet de corridor méditerranéen et de décrire la manière dont ils prennent position dans ce contexte crispé de gouvernance multiscalaire.
Fichier principal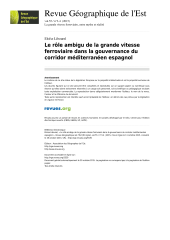 Libourel_RGE_55.pdf (560.14 Ko)
Télécharger le fichier
Origin : Publisher files allowed on an open archive