High-speed rail reshaping urban areas: Valencia Parque Central
Since October 2010, Valencia has been connected to Madrid by the third radial high-speed rail axis. The city now intends to reach a nodal position within the network, thanks to its selected situation on the "Mediterranean corridor" project. The implementation of the AVE (Spanish high speed rail) reactivated Valencia Parque Central project, which aim is to transform disused railways into a park and to build a station and its tracks underground. AVE's implementation in Valencia is a major political issue at all scales. The institutions of Valencia's autonomous Community called for the AVE, which is supposed to boost tourism and regional economy, and to consolidate its position of outer harbour and beach of Madrid. The second issue concerns cities more directly. The realisation of a new railway station is an old project, but it is made possible, even necessary, with the arrival of the AVE. This project of a new station relies on an ambitious underground infrastructure, above which an urban park of 23ha and a business district should be created, giving the city a new centrality. Behind this project, there is a challenge for mobility at a metropolitan scale in Valencia. Parque Central concrete project is limited to the development of a business district in a section of the city, and remedial measures to improve the interconnection of networks.
Depuis octobre 2010, Valence est connectée à madrid par le troisième axe ferroviaire à grande vitesse. Aujourd'hui, la ville tente d'atteindre une position nodale dans le réseau, grâce à sa place privilégiée sur le "Corridor méditerranéen". La mise en place de l'AVE a réactivé le projet de Valencia Parque Central, dont le but est de transformer des friches ferroviaires en parc et de construire une gare souterraine. La mise en place de l'AVE à Valence est une question politique majeure à tous les échelons. Les institutions de la Communauté autonome de Valence ont réclamé l'AVE, censé dynamiser le tourisme et l'économie régionale, et consolider sa position de port et de plage de Madrid. La deuxième question concerne la ville. La réalisation d'une nouvelle gare est un projet ancien, rendu possible voire nécessaire par l'arrivée de l'AVE. Ce projet repose sur une infrastructure souterraine ambitieuse au-dessus de laquelle un parc urbain de 23ha et un quartier d'affaires seraient créés. Enfin, derrière ce projet se cache un enjeu majeur pour la mobilité urbaine. Parque Central se limite au développement d'un quartier d'affaires dans une petite partie de la ville et à quelques mesures pour remédier au manque d'interconnexion des transports urbains.
Fichier principal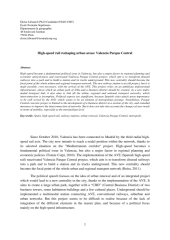 Libourel_paper_maps_BUFTOD.pdf (1.05 Mo)
Télécharger le fichier
Origin : Files produced by the author(s)